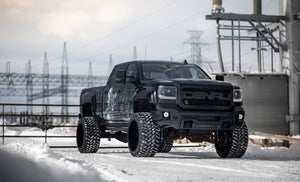 About Us
Our journey begins in 2009, when Leigh Paquette was a young programmer put in charge of rebuilding fuel injectors, fuel pumps, and reprogramming Caterpillar engines to run at optimum performance. With his advanced knowledge of diesel engines he was soon perfecting heavy truck programs to run at the highest efficiency. Not too long down the road emissions systems deletes were being performed and critiqued on the same Caterpillar engines.  
The ECM reprogramming market was large and full of potential. Knowing how tedious reprogramming can be, Leigh applied all his experience and skills in the trade and Krazy On Highways was born in 2012. Before long after setting up in Edmonton, then outgrowing Airdrie, it was now time to move onto bigger and better opportunities in SE Calgary, with a larger location for the company's growing team of experts. 2021 Covid Hit Us with a landlord unwilling to sell the bay and nobody wanting to work in such busy times. There was just to much work walking in the door while managing online sales, that Leigh locked the doors and said we are now selling online only.
Fast forward to 2023 and Krazy On Highways has over 100 dealers North American wide, and is developing and perfecting tunes for pick-ups, construction equipment and big rigs for off road use. We at Krazy On Highways pride ourselves to deliver the highest standard in delivering products and services focused on improving our customers performance under the hood, confidence behind the wheel, profitability to leave more cash in your wallet, and outstanding image for years down the unforgiving road.